Our Violent World. Terrorism in Society
15th May 2013 | By
Emanuele
| Category:
Books
,
News & Events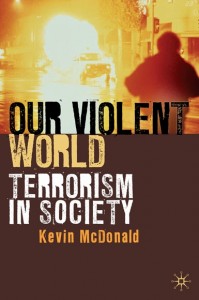 What can the analysis of violence and terror tell us about the modern world? Why is violence often used to achieve religious, cultural or political goals? Can we understand the search for the extreme that increasingly shapes violence today?
From 1960s student movements to today's global jihad, this text explores the factors and debates shaping violence and terrorism in our contemporary society. Each chapter confronts examples of disturbing terrorist acts and events of mass violence from recent history and uses these to examine key questions, theories and concepts surrounding this sensitive and controversial topic. In particular, the book:
– identifies core tools for the analysis of public violence
– explores the processes that mutate social movements into violent groups
– describes the cultural, embodied, experiential and imagined dimensions of violence
– highlights different periods and varying forms of terrorist violence
– examines the role of globalization, media, technology and the visual in violence and terror today.
Our Violent World shows how the social sciences can contribute to an understanding of violence and responses to terror, as well as the construction of a social world less dominated by fear of the other. It is a must-read for students and citizens.
You can download the index of the book and the first chapter here